Jasmine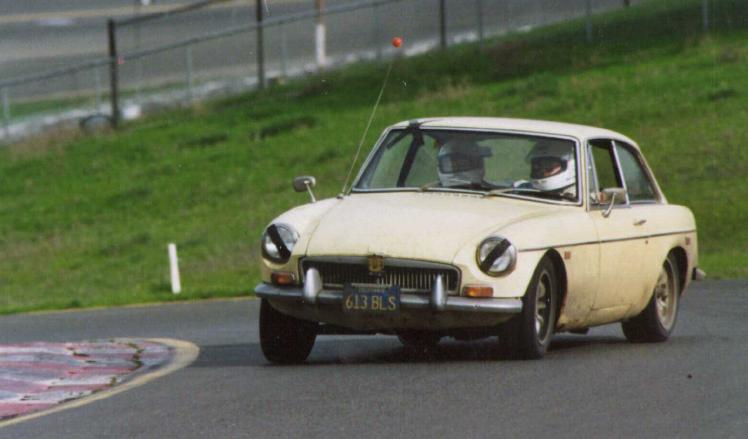 Pictures taken on my commute.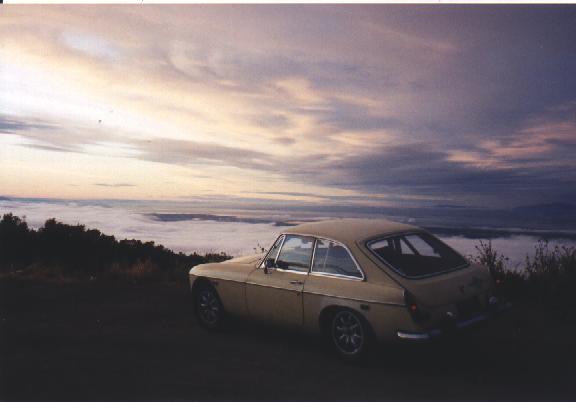 My current plans for rebuilding the engine and upgrading the suspension.
Pictures taken just before
and after I got a 20/20 paintjob on Jasmine.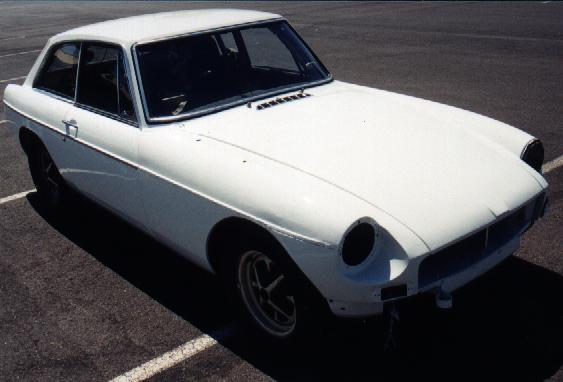 repainting the engine compartment

SCCA drivers school 2003 notes and stories
March 03 trackday at Thunderhill with NASA
NASA weekend March 5-6 2003
dyno results Dec 5 2002
dyno results Mar 4 2003
HP Enterprises documents
Larri, The previous owner sent me these pictures
Parts that I had lying around When I was going to either sell her or rebuild her
Predetoantion is bad This is what happened to the plugs
Suspension partsI'd like to have
A whole bunch of pictures of Jasmine, not sorted.

Jasmine is a 1969 MGBGT. She is a street legal race car, although "race legal street car" is a more accurate description. She has the following features and modifications:

Safety and comfort:
Rollcage
Kirkey Drivers Seat
Corbeau Passenger Seat
5 point crow racing belts
window net
Fire Extinguisher
Hi-tech composite visor
Steering wheel
roll cage padding
seat brace
New windsheild
Roll cage


drivers door bar
cockpit
oil guage
cockpit
back cage

Engine:
Line bored
Venolia Pistons
Elgin Cam
nitrided crank and rods
balanced crank, rods and flywheel
Petronix ignitor
Mallory coil
High flow oil pump
ARP fasteners
spin-on oil filter
Late model water pump
large water pump pulley
plastic fan
Braided steel oil cooler lines
rebushed and rebuilt carbs
Ported head
Stock head
Low restriction exhaust system

Brakes:
braided steel brake lines
carbon metallic brake pads
carbomet brake shoes

Suspension:
Ron Hopkinson swaybar kit
Minator mag wheels
Racing tyres
spare wheels
Firestone SH30 street tires

Transmission
Overdrive 4 synchro


Lots of spare parts.

Note the grill badge. That is from the SSSCBDS, the car club my dad was in when he raced MGs in the 1950s. The acronym stands for South Shore (of Long Island) Sports Car and Beer Drinking Society

I've dyno tuned her a couple of times, first with a ported head, then later without. Either way she puts about 75 hp to the ground. According to Charlie Rockwell who used to dyno tune cars professionally, this is about 5-10 hp more than a normal stock MG.

Dyno results with the ported head:
lday00/dyno000913.jpg
lday00/dyno000913a.jpg
Dyno results with the stock cylinder head:
lday00/dynostockhdairfilter.jpg
lday00/dynostockhdoverall.jpg

Jasmine Rebuild 2002
Images of initial 2002 rebuild

Index of /jasmine/jaspix/jrb

Nov 16- cleaning engine compartment, header, degree wheel, painted motor

Nov 17- stepped washer for header, blower support mounting header manifold and compressor

Nov 18- pin spanner, mounting carb and blower oil res

Nov 19- front pulley, waterpump pulley, alternator, radiator hose

Nov 20- radiator spacers, radiator, final installation
Index of /jasmine/jaspix/jasrebuild020825
Rallycross Nov 2002
pbase.com headon

Thunderhill RallyCross November 2002: index 3

Thunderhill RallyCross November 2002: index 2

Thunderhill RallyCross November 2002

Thunderhill RallyCross November 2002

Thunderhill RallyCross November 2002

Thunderhill RallyCross November 2002

Thunderhill RallyCross November 2002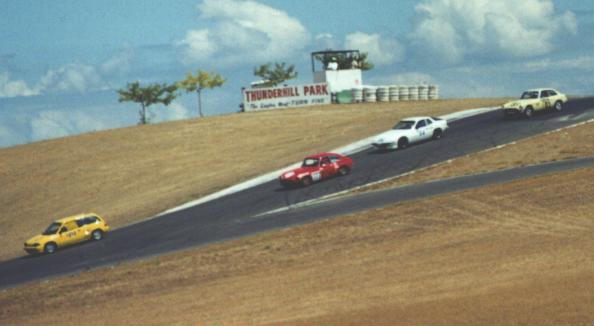 Jasmine has been entered in one race
but didn't quite make it the next year.
Aerial images of race tracks
Last modified 07/02/01
---
Copyright (C) 2001 Larry Colen
Most recently modified by lrc at Wed Nov 05 22:00:41 PST 2003