Humble Pie
In an attempt to get out of debt, I stopped racing about five years ago. Instead, I teach performance driving about once a month with one of the local car clubs . This gives me track time and keeps my driving skills up. I found out that what really happend is that I've become very good at driving at eighty or ninety percent, but I've lost my skill at pushing the car right to the edge of it's performance envelope, and I've totally lost my skill at driving in race traffic.

When I started restoring my MGBGT, since the car saw more time on the race track than most race cars, I decided that putting a roll cage in it was a good idea. While I was at it, I had Paul make the cage be race legal, just in case a race came up that I just could not miss, and it was the only car available to drive. As luck would have it, due to a rule that was not in the rule book until after I complained about it, the cage was not legal for the local race clubs. A couple months before my fortieth birthday I found out that not only was my cage legal for the International Conference of Sports Car Clubs, but Team Continental, one of the member clubs, would be holding a race at Thunderhill, one of my local tracks, the weekend before my fortieth birthday. I decided to "go for it".

Preparing the car was the usual nightmare. Anybody who has tried to turn a street car into a race car in less than a month is very familiar with what I was going through. This was exacerbated by a tight schedule at work, forcing me to work some very long hours. I also found out that there would be another MGBGT in the race, and that it had a ported cylinder head, the one major performance improvement that my engine was lacking. I asked around about getting heads ported. One shop said that they could do it for about $1500. My regular machinist said that he has someone who does it for about $600, and that it would take about a week. I figured that I had about two weeks, which would give me two weeks to get it on the car, and the carbs jetted properly, hopefully on a dyno. I got the cylinder head the Tuesday before the race.

This gave me time to drive the car to work two days before retorquing the head and readjusting the valves. On the drive up to the track the car was not running spot on, it seemed to have a flat spot between 3500 and 4000 RPM. Some months ago, on 505 I was able to see 5500 RPM in 4th gear overdrive, about three weeks ago, I could only see 5000, on the way up to the track this time I saw 5200. When I got to the track to drop the car off, after meeting Elena at the hotel, the car would not restart. Sid Olsen told me that if you are venting your float bowls into a catch tank, and the end of the hose gets submerged, the car will not run.

Since I haven't run a race in a few years, I had to run under observation with the novice group on Saturday. The one time that I had run this configuration of the course, the best lap time I'd achieved was about a 2:35. A few weeks previously I was running a similar configuration of the track, except that we were running the bypass rather than the cyclone. The best laptime I got then was about a 2:40 or 2:45. My primary goal on Saturdy was to keep out of trouble, with my secondary goal being to drop my lap times. I managed to bring my laptimes back down to 2:35 in both qualifying and the race. The race was pretty uneventful, with only 8 people in the novice race, it was basically a practice session with everyone running alone.

The dinner that Team Continental put on Saturday was *AWESOME*. Tri-tip steak, salmon and chicken entrees. The veggies had whole roasted buds (not cloves, buds) of garlic. There was beer, wine and soda. Carrot cake for desert. It was without a doubt, the best meal that I've ever been served at a racetrack.

My first event on Sunday was the last qualifying session for group 2, apart from a stint in Jeff Zurschmeide's stock car two years ago, when I didn't know I had pnumonia, it was my first time on track with a race group in about five years. I found all sorts of places where I was going a whole lot slower than the "other" race cars. On the other hand, maybe because my tires got worn down to racing depth, or the cool morning weather, or having gotten a decent nights sleep, I brought my fast lap down to 2:30.768, in contrast the other MGBGT driven by Greg Bell turned a 2:29.456. Later that morning in the Vintage qualifying I turned about a 2:33.

The production race was a major wakeup call. lday00/grid00.jpg
I think that it was on the first lap, in heavy traffic, I was following a 924 through turn 3, when Greg, in the other BGT took the inside line and passed several of us.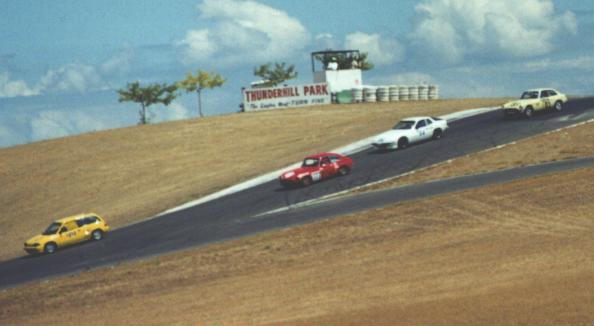 D'oh, this is a race, not an "open track play session". I think that it was on the next lap that I passed the 924 going to the inside in turn 2.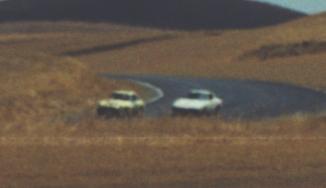 I believe that it was on this lap that "racing happened". Combining my memory, with discussing what happened with the other drivers, this is what I think happened:
I was no longer caught behind the 924 (who it turns out was having engine problems) charging hard to try to catch the other BGT. I came out of turn four flat out. Meanwhile a honda was passing a toyota on the inside through the cyclone. The driver of the toyota slowed way down in order to stay on the track. I remember expecting them to be out of the cyclone by the time I got there. When they were still there, I think that I went for the inside line behind the rabbit. I do remember the toyota "cutting across my bow",



locking up the brakes, hitting her in the left rear corner and watching her spin off to the inside.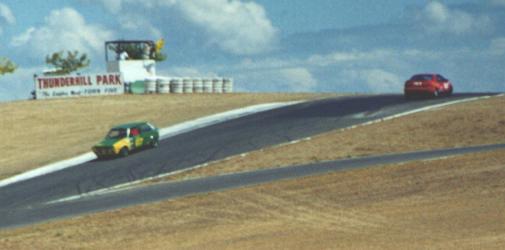 Jasmine seemed to be OK, and I didn't get black flagged. I did notice that the tire rubbed on right hand turns, especially if I was braking. I pretty much ended up running by myself most of the race. I almost waved the I Prod B-210 by when I remembered that he was in my class. We diced briefly, he passed me, then I passed him. A couple of laps later, I spun in turn 14. I drove back onto the track felt some bumpiness in the tire and going through turn 15 had a sudden spin onto the main straight. Suspecting a flat tire I pulled into the pits, as I was at the pit entrance anyways. I looked up and saw the checkered flag. Checking my left rear tire confirmed that it was flat. lday00/flat00.jpg
lday00/flat01.jpg

I had several hours until the Vintage race. I used that time to get my fender out of my tire and to replace my flat with a spare. At that moment I was VERY glad that Elena had driven her car up, allowing me to bring spare tires.
The Vintage race was mostly uneventful. Larry Olsen was driving the other BGT (yes both MGBGTs were being driven by Larrys). I don't remember who was driving the Olsen's MGB roadster. Unfortunately the other MGB had mechanical problems so the driver had left earlier in the day. Larry had to start from the back of the grid since the starter was out on the GT and passed me on the first lap. I think that I actually held him off until after turn 7. After that the race pretty much became a high speed parade for a while. I wasn't quite able to close in on Larry ahead of me and Sue Quakenbush in the Frogeye sprite couldn't quite catch me. I *briefly* considered backing off so the sprite could catch up so that I'd have someone to race against when the pinto went off at 3 and the track went full course yellow behind the pace car. I was closing in on the pace car, with Larry a couple cars behind him, when he waved the cars behind him by. I closed in and they seemed to be waving me by to the right, but with only "racing room" off to the right. I got past them, but by then Larry was long gone, and the frogeye had caught up. Our high speed parade resumed when due to utter and complete brainfade I went two wheels off in turn 14. I kept the car pointing straight ahead, but the frogeye had momentum on me and beat me in a drag race down the straight.
Yes, I lost a drag race to a Frogeye sprite with a 1098. I'm getting my engine dyno tuned as soon as I can, damn it. Over the next lap Sue and I turned our fastest lap times of the race, according to my hotlap timer. I could turn a faster lap time than her, but she was actually a little faster in the straights and I wasn't enough faster than her to pass in a place that would be considered "cricket" in a vintage race.
The trip home was mostly uneventful. Jasmine was not happy running between 3500 and 4000 RPM. The overdrive also would not engage, which meant that at legal freeway speeds I was running at between 3500 and 4000 RPM.
The good news was that my car preparation goals were to get my car fast enough that I could at least keep the other MG in sight for a few laps. In actuallity, I was able to keep it in sight for most of the race. I also had an awful lot of fun. Yes, racing is my absolute favorite thing to do. On the other hand I have learned that I am very out of practice driving at "ten-tenths", and even worse in race traffic. Five years of only "playing nice" has caused my racing skills to atrophy. It's very frustrating to no longer be good at my favorite thing to do. It's major incentive to get my debts paid off so that I can go racing again.
I'm not sure whether it's a good or a bad thing that in order to race my MG I'd need to take it up to Oregon or Washington. The other BGT (which I actually raced against in the Cortina when the previous owner drove it) does have more power, but it was only a little over a second a lap faster than my car. At least on my home track. It handled better, but it was lowered with stiffer springs, and it did have better tires. I'm sure that if I were to get my engine properly tuned (Sid Olsen said that I should use the #5 needles rather than the #6), put on better tires and got a little bit of coaching, I could make up most if not all of that second and a half a lap, especially if I were to upgrade my springs. With my gas tank empty, my car is only about 35 pounds over minimum legal weight, I could take this out of the car either by removing the rear bumper or getting in decent shape. If it were any more convenient to go racing, I doubt that I could resist the temptation. We'll just have to see if Team Continental puts on a race at Thunderhill over my Birthday weekend next year.
pix at http://www.red4est.com/lrc/lday00
lday00/cyclone00.jpg
lday00/fender00.jpg
lday00/jasandmaz00.jpg
lday00/jasmine00.jpg
lday00/lenajasmine.jpg
lday00/lrcandjas00.jpg
lday00/lrcandjas01.jpg
lday00/mgpaddock00.jpg
lday00/mgpaddock01.jpg
lday00/mgpaddock02.jpg
lday00/mgpaddock03.jpg

---
http://validator.w3.org/check/referer Larry Colen
lrc@red4est.com
Copyright (C) 2001 Larry Colen
Most recently modified by lrc at Wed Aug 22 00:38:44 PDT 2001