Commute dinner ride August 7th, 2003
---
Every so often, not nearly as often as I probably should, I instigate a motorcycle ride and dinner on my commute home from work. I work in Redwood City and live on Hwy 9 in the Santa Cruz mountains and it's an absoultely gorgeous ride: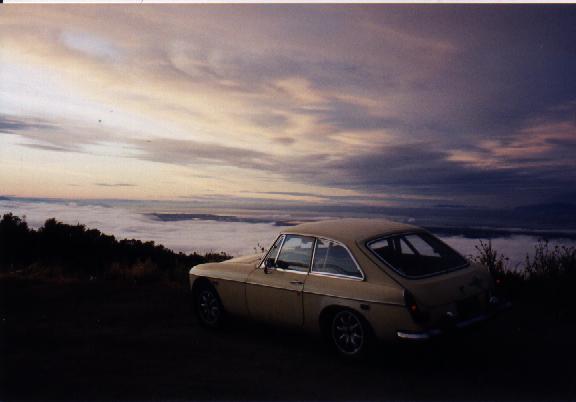 I tend to invite people from several social groups, most of whom have motorcycles or sportscars (or who want to go for a ride with someone with a motorcycle or sportscar).
If you plan on joining us, RSVPs are strongly encouraged.
Here's the plan:
Leave The Long's at Woodside and Broadway in Redwood City at 6:30PM. (people are welcome to arrange other meet points for folks coming from further away).
The route (and approximate schedule) will be:
Meet at Longs 6:40 Woodside and Broadway (just west of 101) 6:50
Woodside/hwy 84 West.
Left at Skyline (hwy 35 south) 7:10-7:20
Right at Hwy 9 (south) 7:40-8:00
Dinner at Ciao Bella! 8:30
If we have a mixed group of fast and slow riders, we'll regroup at 84 & 35 and 35 & 9 in the standard parkinglots.
If you need us to meet up with you on the way (page mill and 35, bear creek and 9 ...) let me know.
Notes:
If you show up late to Long's, you're a big kid you know where to find us.
We're a fairly large group, I expect that at least some of us will be going fairly slowly. The other traffic on the roads will be people heading home from work who drive these roads every day. Please be polite and if you are holding up traffic pull over and let them past. Also, when using pullouts as a group, pull to the front of the pullout so that the people behind you have room.
Ciao Bella
Through Ben Lomond
Through the stop light
Cross the bridge
It'll be the garish restaurant on the right
across from the antique store

http://www.caohwy.com/c/ciaobell.htm

Adelita's
Coming into town in Boulder Creek you will pass Bear Creek Road (on your left), cross a bridge and Adelita's will be on your right. Immediately after Adelita's there is a bank, and the post office is behind the bank. If there isn't parking at Adelita's we may park behind the bank.
If you want to meet up with us on the way (Woodside and 280, Woodside and skyline, skyline and 9 ...) let me know so we can stop and hook up with you otherwise we'll just go barreling on through, unless we stop to enjoy the view.
RSVP's are encouraged.
Adelita's is a relatively inexpensive Mexican restaurant, with mediocre service, so-so decor and great food. If you like spicy food, I highly reccomend the Tingas (strips of steak in a chipotle sauce).
My house will probably still be a mess (houses never get cleaned up for parties more than a day in advance) but crash space is available for those not wanting to brave the hill on the drive home.
Larry
--
Larry Colen - Corrective Phrenologist
lrc@red4est.com http://www.red4est.com/lrc
Most recently modified by lrc at Thu Aug 07 12:02:07 PDT 2003